WILDERNESS GLOVES: FOR A LIFE IN THE WILD
To test out Wilderness Gloves, we sent them to adventurers like Jeff Shapiro who we knew would put them to work in a multitude of environments.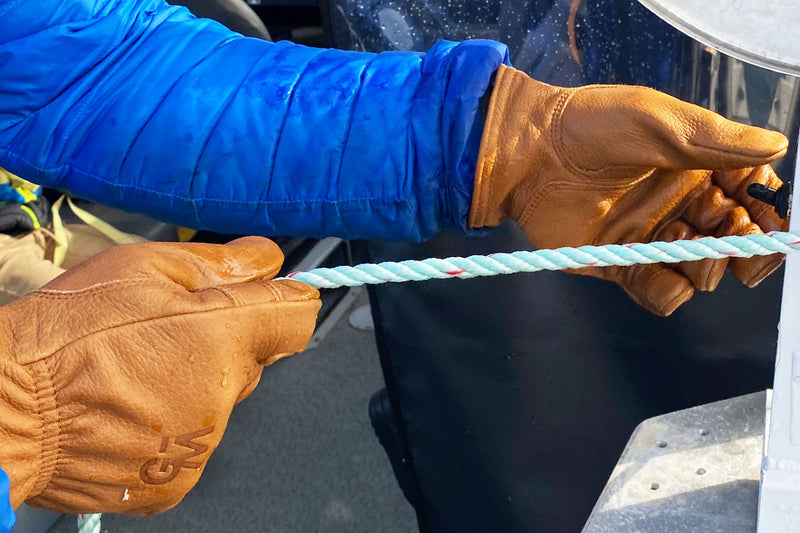 When we designed our new Wilderness Gloves, they were built with a focus to provide protection, longevity, and a dexterity and fit to make tasks like chopping wood and setting up camp comfortable. To test them, we sent them to adventurers who we knew would put them to work in a multitude of environments. Although Jeff Shapiro is perhaps better known for his mountain exploits, he used them in the harsh ocean wilderness and reports back his impressions. If you're in the market for some new gloves, check it out.
 Photographer: Meritt Thomas
I arrived home after a fun surf just down the road from our home on the central Oregon coast, cold and tired but totally satisfied. It was our first day of calm skies after a long and stormy couple of weeks. One of the wildest storms ever recorded had spun across the mighty Pacific to hit the west coast of the US with Category 3 hurricane force. The ocean had been a cauldron of roiling and angry seas making the prospect of surfing, spearfishing or really being anywhere near a boat a mistake waiting to happen.
I took off my hat to reveal still wet hair and took a deep breath, relaxing my body after the effort it took to paddle through huge, breaking waves to get out to the lineup. Walking over to the fireplace to build a hot fire to warm my bones, I felt my phone buzz in my pocket. It was my good friend and a favorite surf partner Louie, who I'd just left. "Hey man, I'm taking my folks out on the boat tomorrow to try to get some crab. Wanna go?".
First off, any opportunities to share time with Louie and his partner Miera, along with their daughter, Jasper is time I feel lucky for. And second, the chance to put some fresh Dungeness crab in a pot over an open fire makes my answer an automatic yes. So I said only what I could, "Absolutely man! When should I meet you guys in the morning?". "Eight o'clock and, you might want to bring some gloves".
For a climber and a pilot who's spent nearly his entire life in the mountains, there's always something special about heading out on the ocean to go fishing or, in this case crabbing, early in the morning. I think it's a combination of feeling like you've had "a fun day of work" with a "treasure hunt" of sorts. If done well, it's a hunt that might result in some serious reward. Harvesting healthy and delicious food from the ocean is a privilege I never want to take for granted, so I remembered to smile when I threw my boots, rain gear, and my new Wolf and Grizzly Wilderness Gloves into an empty cooler (just in case) and carried it all out to the truck as the sun started to rise.
Photographer:  Paul Levesley
Louie's boat is set up with a davit to make hauling crab pots easier. His parents, both in their 70's, were going to be helpful but lifting and setting pots in carefully placed lines, or "strings" as they are known, and then after allowing them to soak for a while, hauling them back on board was a job I was happy to be there to help with. Each crab pot is made of metal bar or wire and has about 50 feet of old, synthetic polyester rope connecting them to a colorful floating buoy. As we got going, and while Louie was sorting the boat, I baited each crab pot with a stinky mix of herring and rock cod, stacked and sorted the ropes and then, after everyone got on board, we were off. 
Once each pot is dropped in the water, I'd feed the line out and at its end, throw the buoy in the water. The crab, walking on the bottom, smells the bait in the pot and hopefully crawls inside. I noticed right away that the ropes were frayed from years of use and the synthetic fibers were almost like splinters. Normally, I don't wear work gloves but today, I was really happy to test out the new design from Wolf and Grizzly. They are designed for laborious work in the woods but today, they seemed perfect for the job ahead.
The fit of the glove made me forget I had them on after a short time. I really like how the fingertips are just snug enough to both give good dexterity and to help secure the glove on my hand. Even wet, they didn't get loose or soggy. In fact, they only got better and more supple during the day. Lou's crab pots were rough and in places, a bit rusty. The pots that were made of twisted wire were sharp and having the work glove on made grabbing the large pots and tossing them over the side easy and painless. I appreciated having the ability to let the old ropes slide through my palms as the boat drifted down the string line before throwing the floating buoy into the bay's cold water. Although the glove isn't designed to necessarily protect someone from cold, soaked by the frigid water, my hands never got too cold and the protection was undeniable and appreciated.
Photography: Jeff Shapiro 
After letting each pot "soak" for 30 minutes or so, Lou would carefully position the boat to float down each line with the buoy's as his guide. He'd drag them down the starboard side of the boat's hull so I could be within reach. Using a long gaffer's pole, I reached out and hooked each buoy, pulling it into my hands and threading the rough rope into the davit's large block and wheels. A davit is a curved brace that swings over the side of the boat so that as the pot is hauled, it doesn't damage the hull. Attached to the davit is an electric wheel which gives a mechanical advantage while pulling the heavy crab pots from the depths. I'd hook the rope, quickly thread it through the block, pulley and electric davit wheel and then by pulling up the excess and stacking it carefully in the boat, we get the pot back on the deck rail of the boat in short order to collect the crab.
I'll say that each and every time I pulled 50 feet of wet rope, an act that was repeated many, many times that day, and then reached into the caged pot to grab large, pinching crab with sharp barnacles on their red shells, I was increasingly grateful to have my Wolf & Grizzly Wilderness Gloves on. The water seemed to continually help them to form fit to my hands and the leather stayed supple and it was easy to do things like operate each pot's door clips which required dexterity. When I did want to take them off, each glove has a well placed D-ring that made clipping them to my belt loop easy and convenient.
By around 1 pm, Meira and I were looking past the bay's protected banks at the glassy ocean with wave lines as far out as we could see. The reality was we had a hull full of delicious crab for Louie's parents, his family and my family to split for dinners to come and there was a building swell of good surf on the horizon. It was an obvious decision; head in and exchange the crabbing gear for surf boards. By the end of the day, my body let me know it had not been a day wasted. Sitting by the fire that evening, I simply felt grateful.
Photography: Jeff Shapiro